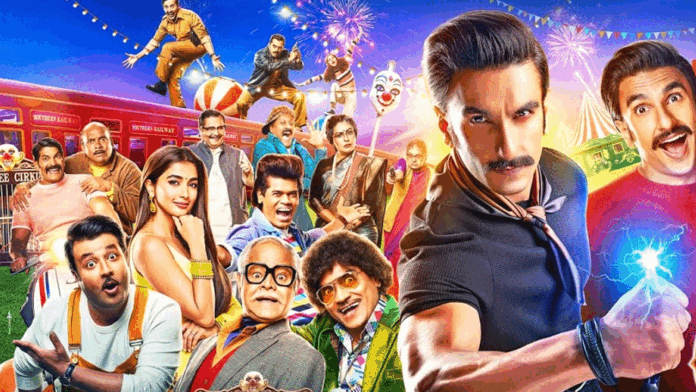 "cirkus movie release date is the prequel of Golmaal as Ranveer Singh is from the same aasharam ", says filmmaker Rohit Shetty
"Cirkus is a clean-hearted Hindi comedy movie to watch together with your family. Cirkus is for people of all age groups be it your grandmother or a small child", says Rohit Shetty. The movie CIRKUS evinced a mixture of comedy, humor, drama, suspense, and thriller. Rohit Shetty has made an extravaganza of movies like Golmaal, Golmaal Returns, Golmaal 3, Golmaal Again, Chennai Express, All the Best, Dilwale, Singham, Singham Returns, Simba, Suryavanshi. Cirkus movie is a unique adaption from William Shakespeare's play The Comedy of Errors.
Star Cast of CIRKUS movie:
Ranveer Singh,
Pooja Hegde,
Johny Lever,
Jacqueline Fernandez,
Varun Sharma,
Sanjay Mishra,
Mukesh Tiwari,
Vrajesh Hirjee,
Siddharth Jadhav,
Vijay Patkar,
Sabha Arya,
Anil Charanjeett,
Ashwini Kalsekar,
Murli Sharma,
Tiku Talsania,
Radhika Bangia,
Brijendra Kala,
Saurabh Gokhale,
Ashish Warang,
Umakant Patil and
Uday Tikekar
Adapted from:
The Comedy of Errors
LANGUAGE OF THE MOVIE CIRKUS:
Hindi
DIRECTOR OF THE MOVIE CIRKUS
Rohit Shetty
MUSIC DIRECTOR OF THE MOVIE CIRKUS:
Devi Sri Prasad,
Badshah,
Amar Mohile
PRODUCTION COMPANIES:
Rohit Shetty Pictures,
T-Series,
Reliance Entertainment
RELEASE DATE OF CIRKUS:
23rd December 2022
WRITERS OF THE MOVIE CIRKUS:
Sachet Bede(dialogue)
Vichy Gorgonian(dialogue)
Yuns Sahiwal(screenplay)
CINEMATOGRAPHY
Jarmon T. John
PRODUCER OF THE MOVIE CIRKUS
Bhutan Kumar,
Rohit Shetty
CIRKUS is the prequel of Golmaal as Ranveer Singh is from the same aasharam
The trend of the Golmaal series is seen to be continued by showing a glimpse of Jamnadas Aashram. Two sets of identical twins are left at the door of the Aashram. However, the sets of those twins are later separated in new cities due to adoption. Later, both set of twins comes to the same city. The characters of the twins are played by Varun Sharma and Ranveer Singh. They visit the city where the other pair of twins conduct CIRKUS. Their lovers misinterpret them with others and conclude them being cheaters.
Must Read: Govinda Naam Mera Movie Review 2022: Releasing on the OTT
CIRKUS MOVIE TRAILER:
Cirkus movie trailer starts with the entry of Ranveer Singh flashing his muscular biceps personating as an electric man. The movie takes the audience to the electrifying 60s. The oddity of Ranveer Singh in the movie CIRKUS is that he releases electric current whenever touched.Ranveer is amazed by the oddities happening to him but his friend names it a wonder of nature. And then alluring Pooja Hegde comes into the picture. However, she doesn't trust Ranveer as she thinks he is a liar and cheating on her with Radhika Bangia. Ranveer is seen romancing Pooja Hegde as well as Jacqueline Fernandez.

Ranveer Singh and Varun Sharma are likely to be seen in a double role. It will be exciting to see the twists and turns while they find their duplicates. Meanwhile, their respective partners will doubt their love and loyalty as they will misunderstand them. Will their love stories get a happy ending irrespective of such hurdles? You will get the answers in cinemas on the 23rd of December.

As Ranveer Singh is playing the character of an electric man who releases current in the objects he touches, it will be fun to see the troubles faced by him and others as well.
With a huge star cast and many veteran comedians, the movie CIRKUS is certainly a Blockbuster.
SONG: CURRENT LAGA RE
Ajay Devgan and Deepika Padukone are set to make special appearance in the movie CIRKUS. Ranveer Singh and Deepika Padukone's song CURRENT LAGA RE is already loved by the audience. CURRENT LAGA RE is a party song and its hook steps are a super hit. It is trending on the internet and has crossed approximately 54 million views on YouTube within a week.
CIRKUS MOVIE TRAILER REVIEW AND RESPONSE
Speaking about the reviews, the CIRKUS MOVIE trailer fetched mixed responses from audiences. The acting of Ranveer Singh seemed to be overacting for the audience. Core comedy scenes in the movies like Golmaal series, Bol Bachan , All the Best, etc. are absent from the movie CIRKUS.

CIRKUS MOVIE TRAILER failed to create an impact on the audience which other movies did. But they are excited about Rohit Shetty's output. Deepika Padukone's entry and the name of the children as Gopal, Lakshman, Madhav , Lakshman, and aah hi are the parts that impressed the audience.
Please do comment with your views on the CIRKUS MOVIE trailer and don't forget to watch CIRKUS in cinemas on 23rd, December 2022.