On Monday, India got access to Amazon Prime Video Mobile Edition, a new, cheaper version of the company's video streaming service. The e-commerce giant initially launched Prime Video Mobile Edition for Airtel members in cooperation with the telecom operator last year and has now made the plan available to all customers in India.
Amazon Prime Video Mobile Edition, a more affordable version of the company's annual streaming subscription service, was unveiled on Monday. According to Amazon, only one user will be able to use the mobile app at a time, and it will only work on one mobile device.

Amazon claims that each subscriber will be able to watch all of the service's SD videos on a single smartphone. Customers will not be able to create numerous profiles or stream in 4K on desktops or smart TVs like they would with the full Prime Video experience that comes with an Amazon Prime membership.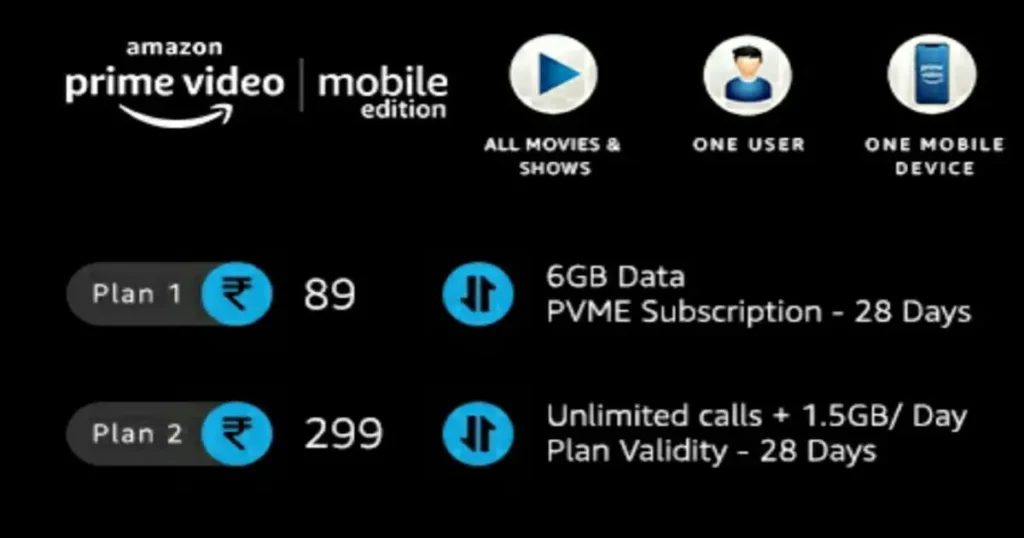 Amazon claims that subscribers can join the plan through the Prime Video app for Android or the Prime Video website, where they can also purchase an annual membership to Prime Video Mobile Edition. They have the option to pay Rs.599 for access to everything Prime Video has to offer, as well as additional Prime perks like unlimited music streaming and speedier Amazon.com deliveries.
This news comes as Amazon works to increase the availability of its mobile-only plan with Airtel, which provides users with the same Prime Video content as paid customers plus 6 GB of data for 28 days for the low, low price of Rs. 89. A Rs. 299 package was available at the time, giving Airtel customers Prime Video Mobile Edition and 1.5 GB of daily internet for 28 days.
Amazon wants to grow faster in India so that it can better compete with other streaming services there, such as Netflix, Voot, Disney+, and Hotstar. Since Netflix also has a cheap mobile-only plan for consumers in the country, the mobile edition of Prime Video is likely to help the company compete with Netflix.
The country of India is one of our most active and rapidly expanding markets. Our countrywide success is the result of new features designed to provide customers more ways to have fun. Even more so, India is rapidly becoming Prime Video's centre of innovation. Prime Video's international vice president, Kelly Day, made the announcement through a press release.
"Originating in India, initiatives like Prime Video Mobile Edition are now being introduced in a number of Latin American and Southeast Asian nations. With the new Prime Video Mobile Edition annual subscription, we hope to reach an even wider audience in India and beyond with the service's high-quality content. "We hope to provide every Indian with our popular on-demand content and live sports with this launch.